Monthly Archives:
August 2015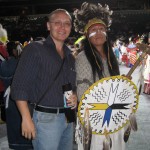 This gallery contains 7 photos.
This paper is in Russian. The modern American legislation regarding relations with indigenous peoples of the continent is examined in the article. The author emphasizes some main principles of the federal legislation regarding to American Indians. In the end the conclusion … Continue reading →
This gallery contains 2 photos.
I am glad my research on Indigenous Peoples' Rights at American University Washington College of Law turned from theory to practice at Homer Law Chartered, Washington, DC-based law firm. The firm's practice primarily focuses on cases, matters, and issues arising … Continue reading →