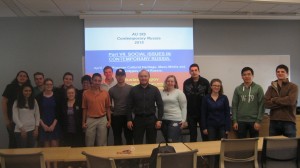 Recently I have received my teaching evaluations from my students and was pleasantly surprised by the pretty high grade for my teaching! I am very glad my students liked the course. I hope they learned a lot of new and useful information about contemporary Russia that will help in their future study and career development.
I taught the course "Contemporary Russia" from January 2015 to the end of April 2015 at American University, School of International Service. Being an insider as a Russian citizen, I tried to do my best in order to give true, important and useful information about contemporary Russia to my students. This course was designed to give students knowledge and new insights into contemporary Russia. Through readings and intensive coursework students gained a fuller understanding of the complex factors that have shaped Russia's evolution since the Mikhail Gorbachev regime and the final days of the USSR. Students explored political, social, legal and economic developments in Russia since 1991, its ongoing domestic transformation and changing global role. They acquired a strong familiarity with the core events and personalities that shaped the final years of the Soviet Union and the politics, law, economy and society of contemporary Russia, including through gaining awareness of the sources of information and analysis available on the Internet.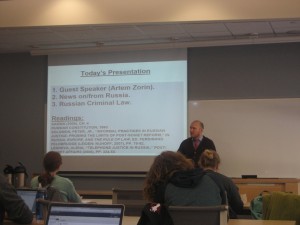 Topics included the issues of Russian history and its reflection nowadays; leadership and elections; foreign and domestic policy; territorial structure and population; law, economy and social injustice; role of the mass media and rise of the oligarchs; the war in Chechnya; anti-corruption protests; situation with Crimean Peninsula, international sanctions and other recent events in contemporary Russia.
The class was organized as combination of lectures, seminars, discussions and case-studies. Emphasis was given on students' own development of research and presentation skills as well as participation in discussions and essay writings. Guest speakers, film screenings and brief presentations by students individually were interspersed with lectures. Every class session started with recent news from or on Russia with following discussion. Students were also encouraged to attend events and discussions at Kennan Institute, Woodrow Wilson Center and Russian Embassy.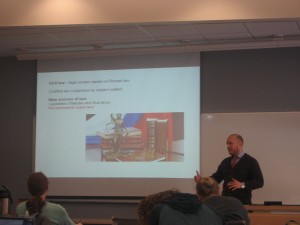 I am very thankful to the AU SIS for the opportunity to teach the course. I am looking forward to teach it next spring semester (2016), and I hope we will be able to develop and launch new interesting courses at American University, covering contemporary Russian foreign policy and International order, Human Rights in Russia and Russian law, as there is a hugely growing interest in Russia nowadays among students. I believe the School of International Service of American University is an excellent platform to study contemporary Russia with its very academic atmosphere and international approach.
It was a pleasure for me to deal with AU SIS management and students as well. And I am glad my students enjoyed the course, and found it useful, interesting, helpful and informative. I hope they will use the gained knowledge in right way as future cultural ambassadors and policy makers. Their thanks and appreciations in the end are the most important reward for me!
Here is some of my students' feedback:
"I really enjoyed your class, and hopefully you teach at AU for a long time!" – Alec Carrasco.
"I have really enjoyed the class this semester.  And I liked seeing a broader picture of Russia.  The guest speakers were all very interesting, and I thoroughly enjoyed hearing about Russian economics, religion, and especially relations with Czechoslovakia/ the Czech Republic.  Thank you especially for keeping in mind my interests. I cannot think of a single part of this class that I did not love." – Annie Thomas.
"I thoroughly enjoy studying about Russia. I'd quite like to visit Russia sometime in the future." – Sean Magee.
"I really enjoyed having you as a professor and the material in the course and hope to take future courses with you at American! " – Hannah Engle.